Diversity & Inclusion in the Workplace: LGBTQIA+ – Inclusion, Intersectionality & Equity
Diversity and inclusion in the workplace is imperative for a sustainable, competitive and innovative company and society at large. Diversity also goes beyond the outward perception of a company – it includes how the internal structures work and signal the value systems of an organization's management or leadership team.
This series is designed by Diversify to centre Diversity and Inclusion in the Workplace. We look forward to seeing you!
---
In June, we're celebrating Pride Month and we're discussing Inclusion, Intersectionality & Equity within the LGBTQIA+ community.
Our speakers for the session are Nathalie Håkenstad (She/Her), Account Manager & Glamazon Co-Lead for Nordics, Justin Hester (They/Them), Vice President of Customer Value, Insights, & Industries, and Emil Novák-Tót (He/Him), DEIB Researcher and Activist. The discussion is moderated by Chisom Udeze(She/Her), DEIB Strategist, Diversify & HerSpace Founder. 
This event is FREE to attend and will be held digitally.  Please register below to receive the zoom link.
---
Speakers:
Nathalie Håkenstad (She/Her) | Account Manager & Glamazon co-lead for Nordics
Nathalie Håkenstad (she/her) is an Amazon Web Services Enterprise Account Manager, Glamazon co-lead for Nordics and board member for women@Amazon Nordics and BEN Nordics, driving ID&E discussions and initiatives forward not only internally within Amazon Web Services but also with partners and customers.
With more then 20 year experience within IT, she is also actively campaigning for Human Right Rights, focusing on LGBTQ+ community, and is a board member of FossePride, which was founded by her then 14 year old daughter Isabella.
Justin Hester (They/Them) | Vice President of Customer Value, Insights, & Industries
Justin Hester (they/them) is Vice President of Customer Value, Insights, and Industries at Cognite, leading a global team that empowers industrial companies to view data through the lens of business outcomes, with a specific focus on helping executives effect strategic change and drive top-line and bottom-line improvements across their organizations.
Prior to Cognite, Justin led a global team at PTC that consulted on digital transformation strategies, leveraging their 17+ years of manufacturing innovation and leadership experience to provide hands-on recommendations resulting in $1B+ in new revenues and cost improvements for partner firms. Justin is passionate about intersectional workplace inclusivity and LGBTQIA+ issues, and is a firm believer that everyone should work in a team and environment that allows them to freely be their authentic self at work. Justin holds an MBA, a Master of Industrial and Systems Engineering, and a BS in Computer Engineering & Industrial Robotics.
Emil Novák-Tót (He/Him) | DEIB Researcher and Activist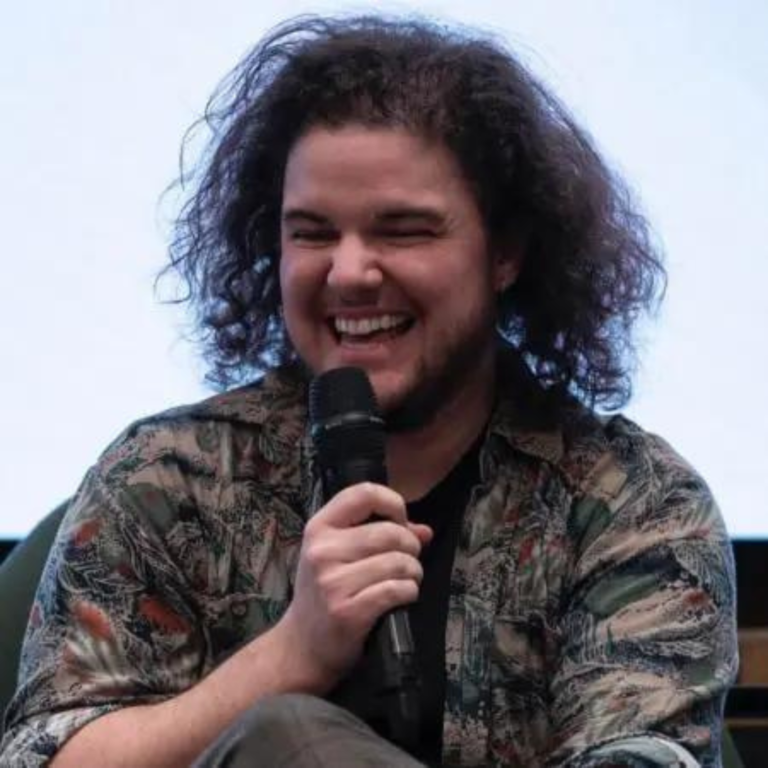 Emil Novák-Tót (he/him) is a researcher and DEIB practitioner with about seven years of experience in linguistic and socio-psychological research in speech, stereotypes, charisma, power, belonging and related workplace dynamics.
He has worked as a researcher at Develop Diverse almost from its founding, where he has built much of the theoretical and practical frameworks of the flagship software and surrounding services. He has contributed to designing, writing and delivering inclusive language workshops at universities and global companies alike. He is also dedicated to contributing to employee-led initiatives and advising leadership on DEIB, both internally and as an external advisor at CBS.
At the dynamic and ever-changing overlaps of various marginalised and privileged identities (white, trans, immigrant, disabled, neurodivergent), Emil strives to combine lived experience expertise and research in ways that are ethical and sustainable. He tries his best to approach topics of DEIB with bias-consciousness, an open and inquisitive mindset, radical honesty, and from a place of critical sensitivity to how today's inequalities have been shaped by a still ongoing history of violent Western colonisation.
His current fixation is trans liberation and why it's one of two major prerequisites to gender equality. (The other one is anti-racism, and the short answer is "because of white supremacy").
Moderator: Chisom Udeze | DEIB Strategist & Founder of Diversify and HerSpace
Chisom is an Economist, a Diversity, Equity, Inclusion and Belonging (DEIB) Strategist, and a 3 times founder of impact driven companies. She has over 14 years of experience working with organizations like the European Commission, The United Nations, ExxonMobil and The Economist Group. Chisom is analytical and a data enthusiast. She is passionate about interrogating the cross-sectoral relationship between society's inhabitants, resources, production, technology, distribution and output. She efficiently and effectively unlocks complex systems, interprets data, forecasts socio-economic trends and conducts research.
Having lived and worked in 7 countries across 3 continents, she is highly adaptable to different circumstances and people, and thrives in uncertain environments.
As the founder of Diversify and Diversify Consult, Chisom and her team work with companies, institutions, governments and civil society to develop sustainable DEIB strategies and embed measurable diversity and inclusion initiatives in the workplace and society. In addition, in 2022, Diversify launched the Diversify Nordics Summit, the largest conference in the Nordics that gathers cross-sectoral stakeholders to amplify DEIB in the Nordics and beyond.
In 2020, she founded HerSpace, a diverse and inclusive co-creation community for all genders, with particular focus on women and non-binary people. In 2022, HerSpace launched HerTech, Women in Tech incubator, for women-led companies, with a focus on the inclusion of diverse founders.
Chisom is a thought-leader in DEIB and a passionate advocate for mental health and wellness. She writes often on DEIB and justice related topics, some of her work is published on Forbes.
---
---
This event is FREE to attend and will be held digitally.  Please register HERE to receive the zoom link.
---
---