Nordic Diversity, Inclusion and Equality – What does intersectionality have to do with it?
The Blaze Inclusion Awards celebrate and illuminate the trailblazers – individuals and organizations – who actively and passionately uplift Diversity, Inclusion, Equity and Belonging (DEIB) initiatives in their workspaces, communities and society overall.
Blaze panel discussions will follow nominations and voting periods for the Blaze Inclusion awards and will take on important DEIBJ topics featuring speakers from 8 Nordic countries.
---
The topic for the second Blaze panel discussion is Nordic Diversity, Inclusion and Equality – What does intersectionality have to do with it?
Intersectionality is a term coined by Professor Kimberley Crenshaw. It is an analytical framework for understanding how a person's social or political identity such as ethnicity, race, social class, gender identity, sexual orientation, and other facets of social stratification combine to create different modes of privilege and discrimination.
The speakers for the discussion are:
Winta Negassi, Head of HR, Northern Europe LCS at Google from Norway;
Greg Fernando, Founder of New to Sweden from (Sweden);
Miriam Petra Ómarsdóttir Awad, Senior advisor at the Icelandic Center for Research (Rannís) from Iceland;
Karolina Clarke, Head of Diversity and Inclusion at WSAudiology from Denmark
The session will be moderated by Chisom Udeze, Founder of Diversify & Herspace.
Read more about Blaze Inclusion Awards here!
This event is FREE to attend and will be held digitally.  Please register HERE to receive the zoom link.
This event is supported by the Nordic Talks.
---
Miriam Petra Ómarsdóttir Awad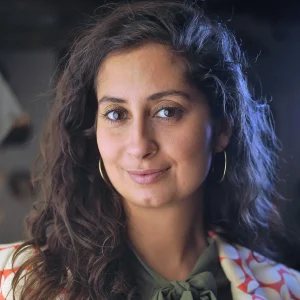 Miriam is an Icelandic anti-racism educator and activist. Miriam has lived her entire life in Iceland and has a mixed background, as her mother is Icelandic and her father was originally from Egypt. Her experiences of not fitting into the "mold" of what it means to be Icelandic has greatly influenced her life. During her master's degree Miriam studied Nordic exceptionalism, colonialism and the Icelandic national identity in relation with prejudice in Iceland. There, her research subject centered on the effects of racism and prejudice on self-identities of Icelandic women with Middle Eastern backgrounds. Miriam currently works at the Icelandic National Agency for Erasmus+ where she is the agency's Inclusion and Diversity officer. Since spring 2021 Miriam has hosted workshops and lectures on racism and cultural prejudice in Iceland in her personal time, but as an Icelandic person with a mixed background she draws from my own personal experiences as well as her professional experience working with the subject of inclusion and diversity. Miriam has written for Icelandic newspapers and magazines on the subject of intersectionality, racism and prejudice and has been consulted on national TV on the subject.
Karolina Clarke
Karolina (she/her) is a global DEI leader with a passion for promoting diversity, equity, and inclusion in the workplace. Karolina's educational and professional background formed a solid foundation necessary to drive meaningful change. She holds a Master of Social Science degree in Political Communication & Management, as well as a Bachelor of Science degree in Business Administration and Philosophy, both from Copenhagen Business School. Karolina's extensive experience working with global organizations like A.P. Moller – Maersk, KPMG Denmark, and Nordea, as well as her current role at WSAudiology, has given her a deep understanding of the complexities involved in promoting DEI at a global level.
Privately, Karolina was born and raised in Poland, and currently lives in Copenhagen with her husband and daughter.
Greg Fernando
Greg is the founder of the NGO New to Sweden, which works to help internationals integrate into the Swedish labour market and within the Swedish community. A vocal proponent of newcomer rights, Greg has delivered talks to employers like Google, SEB, Vattenfall and Spotify. He recently co-founded the Swedish 1046 Inclusion Campaign, which brought together over 15 organizations working in the DEI and integration space to create conversations about intersectionality and inclusion nationwide.
Originally from Canada, Greg has been living in Sweden for almost 10 years and has experienced many issues facing newcomers and people of colour first hand. He now leverages his previous HR and recruiting experience to not only help newcomers find work in Sweden, but to also help employers attract and retain international talent.
Moderator: Chisom Udeze
Chisom is an Economist, a Diversity, Equity, Inclusion and Belonging (DEIB) Strategist, and a 3 times founder of impact driven companies. She has over 14 years of experience working with organizations like the European Commission, The United Nations, ExxonMobil and The Economist Group. Chisom is analytical and a data enthusiast. She is passionate about interrogating the cross-sectoral relationship between society's inhabitants, resources, production, technology, distribution and output. She efficiently and effectively unlocks complex systems, interprets data, forecasts socio-economic trends and conducts research.
Having lived and worked in 7 countries across 3 continents, she is highly adaptable to different circumstances and people, and thrives in uncertain environments.
As the founder of Diversify and Diversify Consult, Chisom and her team work with companies, institutions, governments and civil society to develop sustainable DEIB strategies and embed measurable diversity and inclusion initiatives in the workplace and society. In addition, in 2022, Diversify launched the Diversify Nordics Summit, the largest conference in the Nordics that gathers cross-sectoral stakeholders to amplify DEIB in the Nordics and beyond.
In 2020, she founded HerSpace, a diverse and inclusive co-creation community for all genders, with particular focus on women and non-binary people. In 2022, HerSpace launched HerTech, Women in Tech incubator, for women-led companies, with a focus on the inclusion of diverse founders.
Chisom is a thought-leader in DEIB and a passionate advocate for mental health and wellness. She writes often on DEIB and justice related topics, some of her work is published on Forbes.